Heartsong Live 2017 Top 25 Songs
Compliments of the season. First we would like to thank YOU immensely for your love, support and prayers through the year 2017 – just as the Bible reveals that the glory of the latter will be greater than that of former, so shall the year 2018 be for YOU and yours, AMEN!
We would love to present – 'Heartsonglive Top 25' – a compilation of life transforming musical releases from your favorite Gospel artistes world over; and simultaneously appreciate the artistes, song writers, producers and the entire team that brought such life changing tunes our way.
Given the wide range of spirit filled songs that premiered in the year 2017, we had a tasking, yet fulfilling moment picking, drafting and publishing our final picks for the compilation.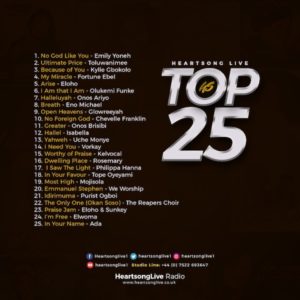 See below our 'Top 25 Songs. These have been carefully compiled and selected from listeners choice/requests, presenters pick/choice as well as listener reviews. Click on the song title to listen to or watch these songs or the artiste name to find out more about the artiste.
1. No God Like You– Emily Yoneh
2. Ultimate price Toluwanimee
3. Because of You Kylie Gbokolo
4. My Miracle Fortune Ebel
5. Arise– Eloho
6. I Am that I Am –Olukemi Funke
7. Halleluyah Oh– Onos Ariyo
8. Breath Eno Michael
9. Open Heavens Glowreeyah
10. No foreign God– Chevelle Franklin
11.Greater Onos Brisibi
12. Hallel – Isabella Melodies
13. Yahweh– Uche Monyeh
14. I Need You Now– Vorkay
15. Worthy of Praise– Kelvocal
16. Dwelling Place– Rosemary
17. I saw the light Philippa Hanna
18. In Your Favour– Tope Oyemami
19. Most High– Mojisola
20. We Worship– Emmanuel Stephen
21. Idirimuma– Purist Ogboi
22. The Only One (Okan Soso)– The Reapers Choir
23. Praise Jam– Eloho & Sunkey
24. I'm Free– Elwoma
25. In Your Name– Ada