INESCRIBABLE AND A NEW BEGINING By Isabella- The Review
It's not everyday you hear of artists releasing 2 albums at the same time. Two EPs (consisting of 4-5 tracks each), yes. Two albums in the same year, maybe. But two albums consisting of 23 songs in total (ALL written by the artist) at the SAME time? Well, speaking as a songwriter myself, there are only a handful of people I personally (emphasis on personally)  know could attempt this and most of these people have 'producer' as one of their titles so I think It is safe to say Isabella (or 'Mama Isabella' as she is fondly called by those she mentors far and near) is in a league of her own, especially as these are her 7th and 8th albums respectively! I thought of reviewing the albums in two different documents but i felt that would take away from the monumental height this renowned psalmist, songwriter and worship pastor has attained with this release. However, as each album is different in it's own right, I would attempt to review both separately but in this one write up. Brace yourself! This will be a long one.
INDESCRIBABLE (Consisting of 13 songs, all written by Isabella and produced by Wilson Joel)
Indescribable opens with the joyful, uptempo track 'Our Great God Reigns', complete with horns and all good things a lively song should have, including the 'live' factor which is quite reminiscent of Israel Houghton's 'Again I Say Rejoice'. I've always believed the best way to open an album is to knock it out of the park from the outset, not save the best for last as folks these days are too impatient to wait that long. 'Our Great God Reigns' is certainly THE right way to kick start an album and it left me looking forward to what was to come
And I was certainly not disappointed with the next three tracks which include the title track 'Indescribable', 'Omnipotent God' ( with it's slight nod to afro influences in just that one line: 'Lion Of Judah' ) and 'All Glory'.  If you didn't know Isabella was a worshipper or by some small strange chance you weren't convinced, you should be convinced right about now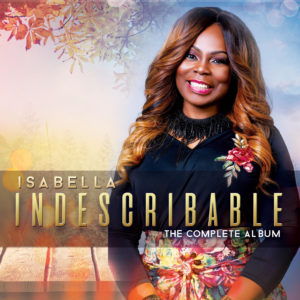 She definitely takes it a notch higher with the striking, memorable melody in 'In Jesus Name' and the depiction of angelic worship in 'Great Jehovah'
From this point in the album we are swiftly (and intelligently, if I might add) taken through the mid-tempo songs of 'King Of Kings' and 'In You I Find Myself', with it's distinct guitar solo starting the song off. If you are acoustic guitar lover like me, you will love 'In You I Find Myself'
'Draw Me Close To You' takes us back to Isabella opening up the song in a call to worship as she has on many of the tracks already. It is fast becoming an 'Isabella trademark! Here again you are greeted with what almost feels like a recreation of how worship is or rather could be in Heaven, with the some extra reverb on the vocals, layers of background vocals swirling in and out within themselves. It surely paints a strong image in your mind and a desire in your heart to fall prostrate before God
As if we were in doubt of Isabella's versatility, 'Desperate For You,  introduces an element of Jazz, even sprinkling on what sounds like double bass in areas which certainly spices things up.
Before writing up this review, I had heard and read a lot about 'Revival Fire' and was certainly looking forward to hearing it. To all intents and purposes, this song gives off a feel-good and light-hearted aura, very reminiscent of what we could expect from Lighthouse Family. But the message is anything but. Pretty much like most of the album. Revival Fire is (as is quite apparent from it's name) a desperate cry for revival. From here, Isabella carries that same desperation and desire and focuses it squarely on God in 'You are My God'. You get the impression that she doesn't want to ever stop singing  to One she hails 'My strong tower; the reason why I sing'
I believe this album would probably not have been complete without the introduction of a song which extols God is some other language other than English. I understand the English language can be grossly word-deficient in it's ability to express a certain level of depth. So very aptly, 'Indescribable' comes to a close with 'Nara Ekele'. I am not privileged to know how to speak another language but If I did and decided to write a worship album I'd definitely do the same
A New Beginning (Consisting of 10 songs all written by Isabella and produced by Niyi-P)
This woman sure knows how to kick off an album! 'A New Beginning' kicks off with 'You're a Wonder' and while it isn't the up-tempo groove most albums open with, you are immediately pulled in by the Celtic-infused intro. Quite an unexpected pleasure. As I've said already, you want to put your best foot forward to catch the interest of your audience from the outset, simply because there are a million things vying for the attention of the same group of people you are targeting and Isabella has so far demonstrated a good understanding of this. I did notice something that's different with this track. NO background vocals! Or at least none that was obvious. I think it is brave AND necessary from time to time to do so, even in worship albums. For me this shows another facet of this incredible woman's versatility
Next up is what i refer to as the 'user-friendly' Lord Be Glorified' (meaning, it's easy to pick up and sing along) and 'Sweet Jesus' which paints the image of Isaiah 6 in my mind. Maybe because the song was done on in a minor progression or tperhaps it's the he military/imperial feel or aura you sense throughout the song. It's for this reason alone I wish the lyrics were a little punchier. But that's solely my opinion. Practically any song done in minor progression gets my attention so this song got several playbacks from me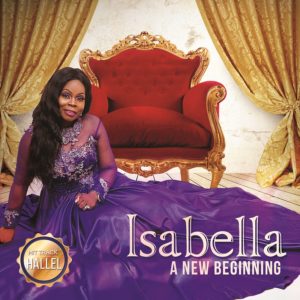 The song 'Hallel', paints the picture of  large southern african choir in my mind. Her emotional delivery in this song is what makes it stand out for me. I could actually imagine tears rolling down her eyes while singing this.
'Miracles' and the 'splash-of-organ' track 'Call On Jesus' take a slightly different turn lyrically to one of encouragement which at this midpoint of the album is a welcome change whilst upholding the general theme of worship and then it's back to status quo with 'King Of My Heart'.
'Worthy is the Lamb' is another easy-to-learn track and just whilst I was thinking this track would be great as just an instrumental…yes, you guessed it! A short instrumental was introduced towards the end of the song. It was definitely worth the wait.
I haven't had the privilege of listening to Isabella's other albums but leaving non-english songs to the end seems to be the trend. To be honest, I ABSOLUTELY love how true to fashion these songs are. 'Mekwanu Ya Ozo' and 'Imaranma' are NOT English songs ( even though they contain some English lyrics) so they don't SOUND like English songs. I think this is absolutely crucial in order to keep the authenticity of songs like these. As for Isabella's rendition in both songs, I am left struggling to decide which language she sings better in- English or Ibo (that's the name of the language these two songs are sung in). To be honest, it doesn't really matter. I thoroughly enjoyed these these songs and again agree that this is a perfect way to end a worship album
I feel like I've lived in 'world Isabella for the last few hours of writing this review. It is an intense world. It is an uplifting world. It is a beautiful world. Through her music, you can't help but feel like you know her and that is what every artist strives- or should strive- for. She's probably one of the most prolific top-line melody writers I have encountered in recent times. And what a privilege that has been!
Reviewed by Tose`