Open Up by Toluwanimee-The Review
What a pleasant introduction to the music and ministry of Toluwanimee! If you've never heard or listened to any of this seasoned worship leader's songs, 'Open Up' is a great place to start and it is sure to capture your attention from the very first note you hear her sing. While her vocal texture and control is pretty impressive, it's Toluwanimee's interpretation of the lyrics that jumps out at you. She sings like she means every line, every word. And It certainly seems like it, as she had this to say:
"I got this song at a time when I got to my wits end and totally exhausted myself…I was in that place of solitude, and brokenness to God. Just fellowshipping and listening for some kind of reassurance the song came "I open up that you would fill me, let showers of rain of your refreshing fill my soul and every searching I open up…"
And if Toluwanimee's vocal prowess and song interpretation do not grab your attention then the back ground vocals are sure to do the job. They go over and beyond in providing a solid background support to what is already an authentic sounding track, thanks to the impressive production skills at work.
However, my personal favourite section of 'Open Up' has to be the bridge of the song. This is where Toluwanimee's incredible song interpretation abilities truly shine. It is like a melting pot of all things great about the song. I absolutely love how she isn't afraid to let go and get rough with reckless abandon as she sings 'Take over, Holy Ghost power'. It is both passionate and militant, her voice even taking on a slight raspy tone to it. What pulls you in is not perfection (though this lady can sing the proverbial phone book!), but heart.  The introduction of the chorus afterwards in acappella is both timely and appropriate as it drives home the depth of prayer which this whole song really is- one long, passionate prayer!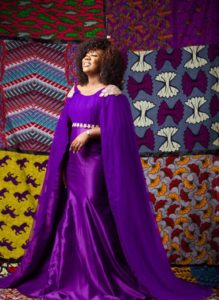 After this point, what comes next is what I can only refer to as the introduction of what seems to be a 'live element' to the song. And herein lies my only criticism: In my opinion, it adds nothing new or fresh to an already great song. In other words, the song didn't need it and didn't benefit from it's introduction.
All in all, this is truly a beautiful, well produced and well delivered song and a definite must-have on your worship playlist.
Reviewed by