My Miracle by Fortune Ebel ft IBK
A MIRACLE is an event that appears inexplicable by the laws of nature and so is held to be SUPERNATURAL in origin. It is a fortunate outcome that prevails despite overwhelming odds against it and it is an awesome and exceptional example of something! MIRACLES are divine,  GOD is the Author and King of Divinity and He alone is the Doer of authentic and permanent miracles. While GOD is the Doer of miracles, Prayers and Songs are the TOOLS with which we  make our request and declarations when we need miracles.
It is thus from this spiritual perspective of understanding and inspiration that Fortune Ebel and his Music Community – #KingdomRealm delivered this Miracle-Tool song titled #MyMiracle. In this song, Fortune teamed up with a Vocal powerhouse – IBK who is a member of Tim Godfrey's thriving #RoxNation and She delivered with her bespoke vocal dexterity and mostly, that pipping-hot anointing!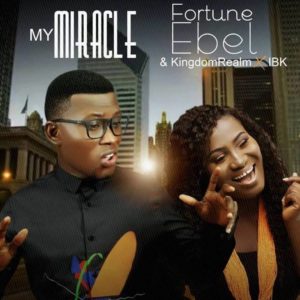 #MyMiracle was produced by the Steinberg Endorsed Ambassador and renown Music Producer of household songs such as #MiracleWorker by GlowReeYah Braimah, #Alagbara by Onos etc – Wilson Joel. #WJ's (as he is fondly called) nature for uncompromising excellence made him engage other professional musicians to deliver the song #MyMiracle and they include:
Tope Badejo – Additional Piano.
Victor Mosugu – Drums.
Segunfunmi Olafehinde – Guitar and
Raphael Akpan – Bass.
Costume and Graphics were the brainchild of Chinonso Arubayi.
Listen to Song here
ABOUT FORTUNE
Fortune Ebel hails from Uzere in the Isoko South Local Government Area of Delta State, Nigeria. He grew up in Assemblies of God Church where he first began to sing in the Teenagers' Choir. He officially commenced his exclusive music ministry/career on Sunday, the 18th of March, 2012; then he went on to create an exclusive Music Community called KingdomRealm and a Music General Logistics Organization called Royal Affairs. In 2014 he and his friend together started an online gospel music platform called "Gospotainment" which has now become a household name in the gospel music industry in Nigeria.
He has been singing for well over a decade now and during this period, has offered brief stints of stewardship as background vocals for artistes such as the Ron Kenoly Brothers in 2012, Asa in 2014, American Renown Gospel Saxophonist, Angelina Christie in 2014, Micah Stampley in 2016, Sammie Okposo and Jonathan Nelson in 2016 and Donnie McClurkin in 2017. His debut album #iRule was released in January, 2015 and in same, he was favoured to feature the legendary Sammie Okposo in the already renowned song titled #EzeMo – #MyKing.
Fortune describes the pattern of his music as "an organic one that vibes with a very cosmopolitan flair of delivery". He is a trained lyricist and he writes/composes new songs as well as sings the old ones.
Currently, he serves in the Lagos Metropolitan Gospel Choir of House On The Rock, Lagos, Nigeria; alongside his Seniors in the industry, some of which include Sammie Okposo, Glowreeyah Braimah, Timi Dakolo, Onos Ariyo, Tim Godfrey, Kikeolomo Mudiaga, Eno Michael etc, under the administration of the prolific, yet unostentatious Music Magnate – Wilson Joel.
Fortune Ebel is a Gospel music singer who loves and has a great measure of respect for the plethora Gospel music ministers that are both in Nigeria and in diaspora and together with his Music Community – KingdomRealm, he will keep adding to the Universal Church, songs that shall become legacies for the many other and better generations already fast emerging.